A selection of photos from the summer 2018 Fellowship events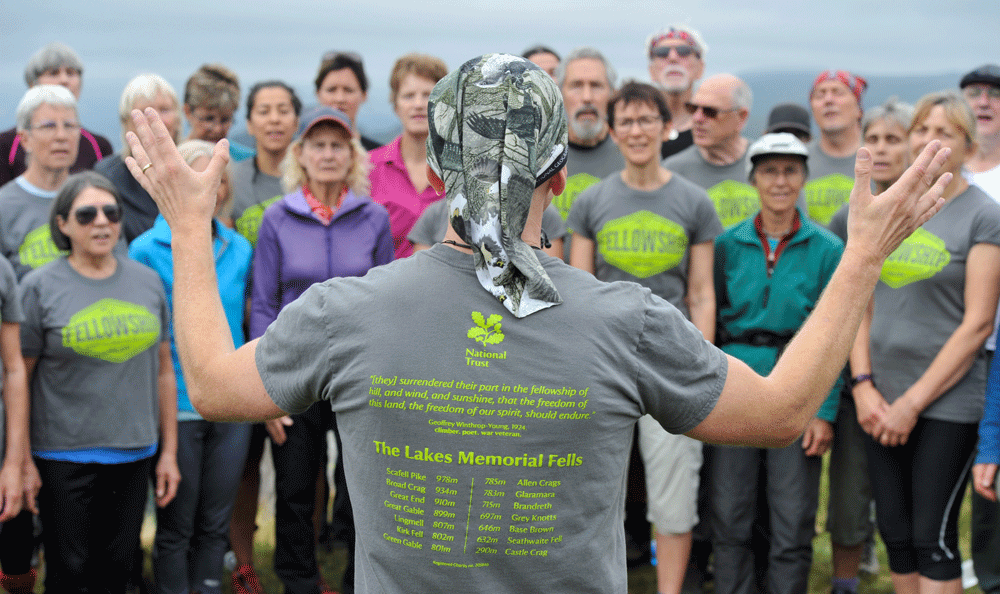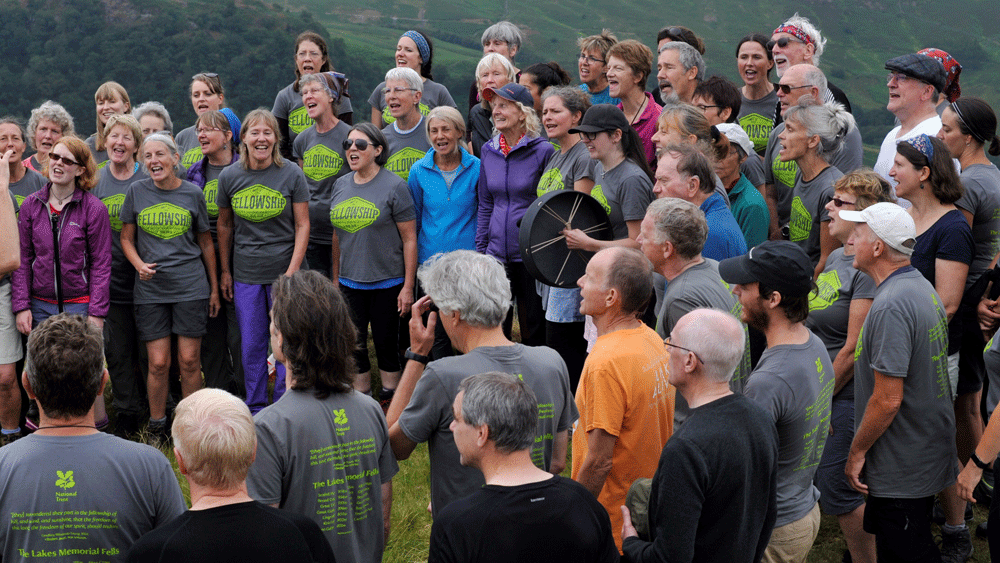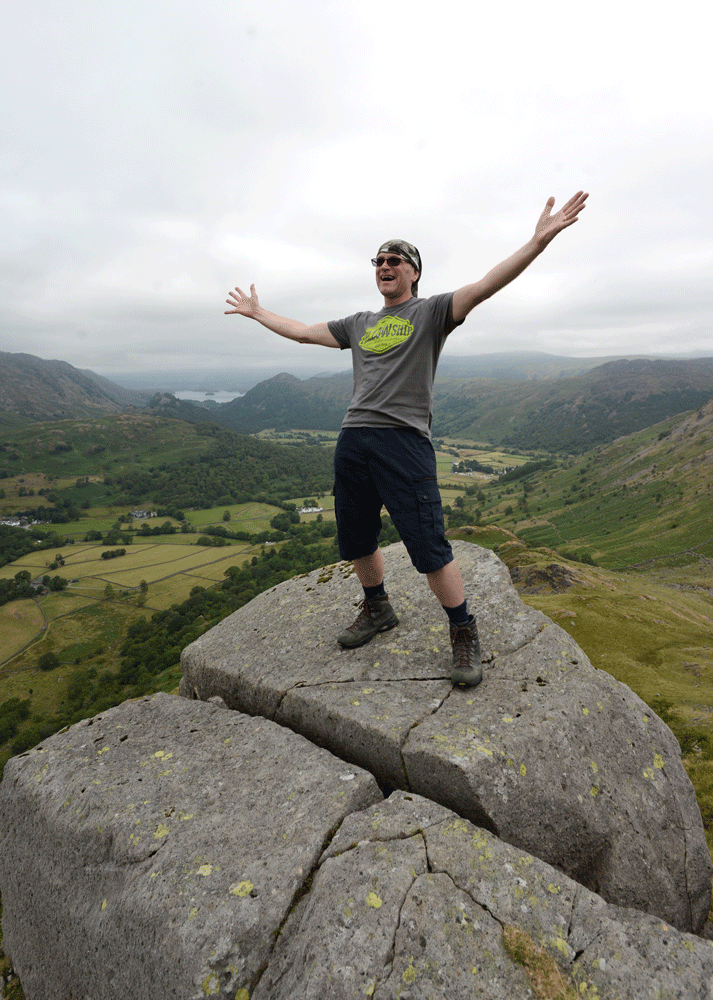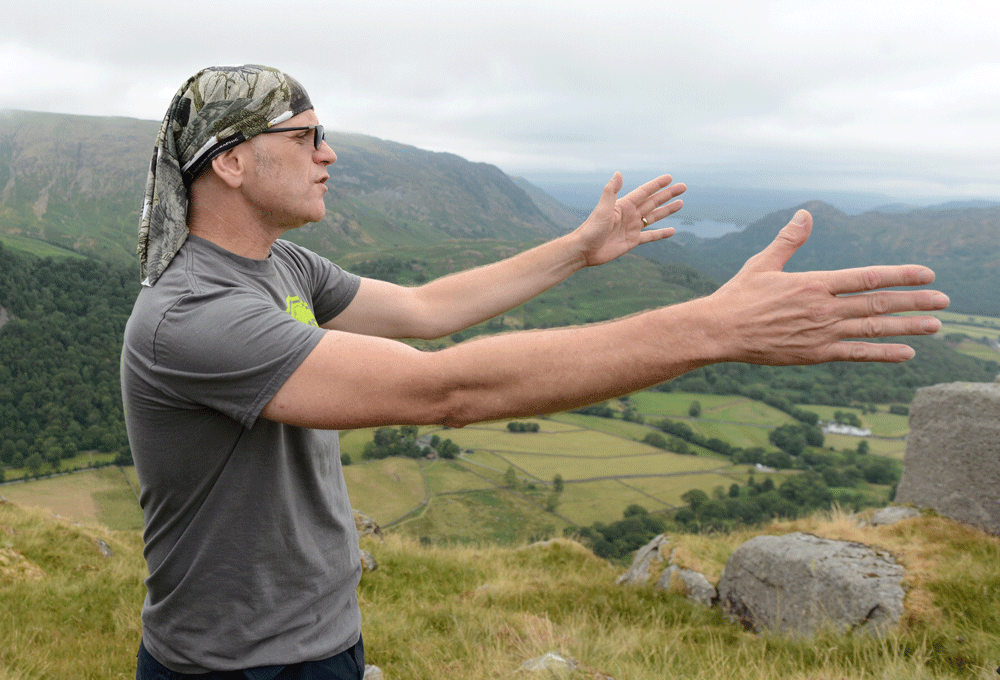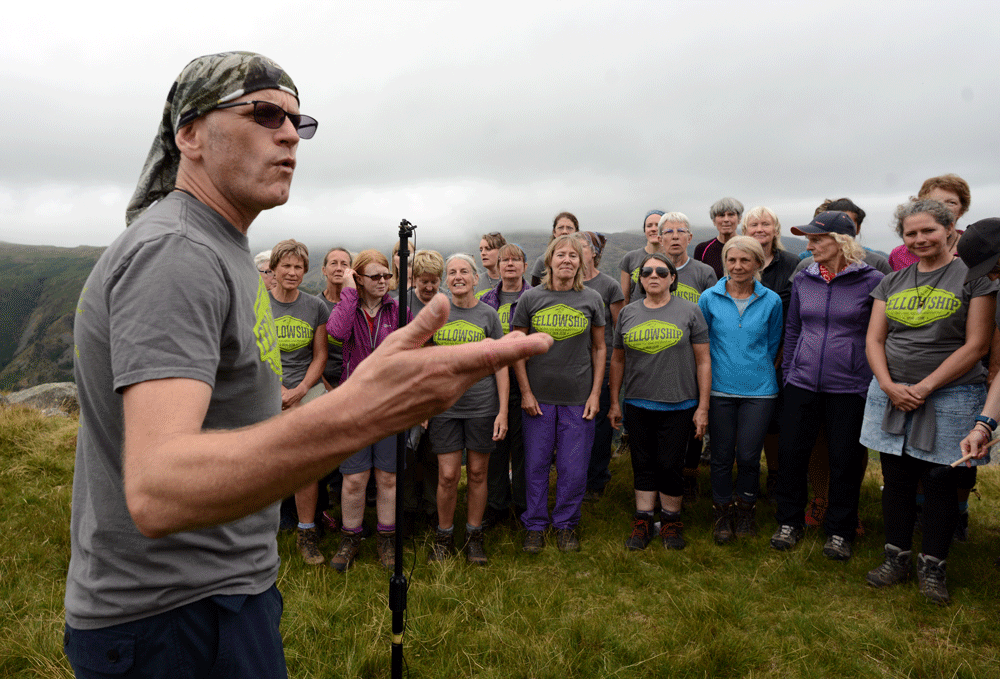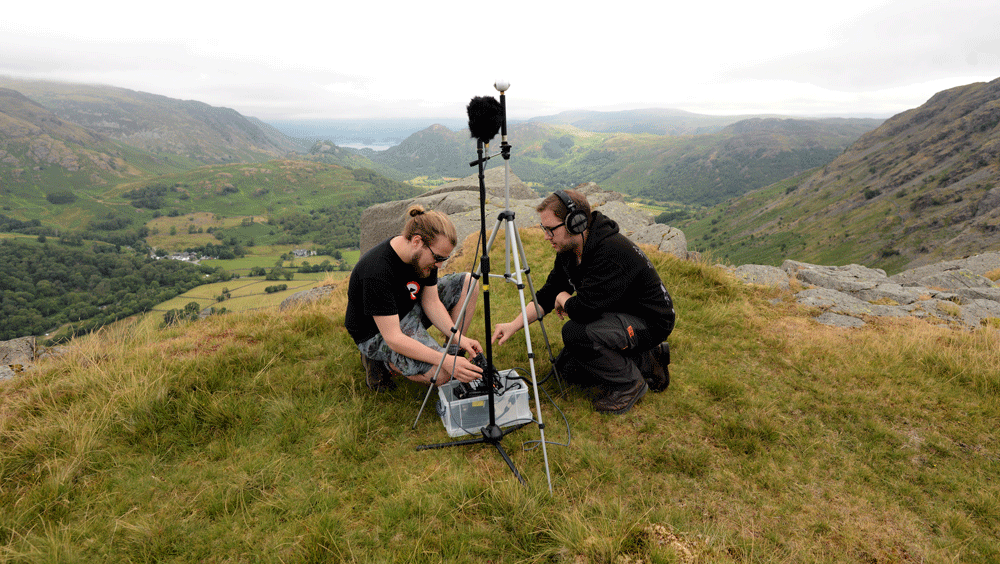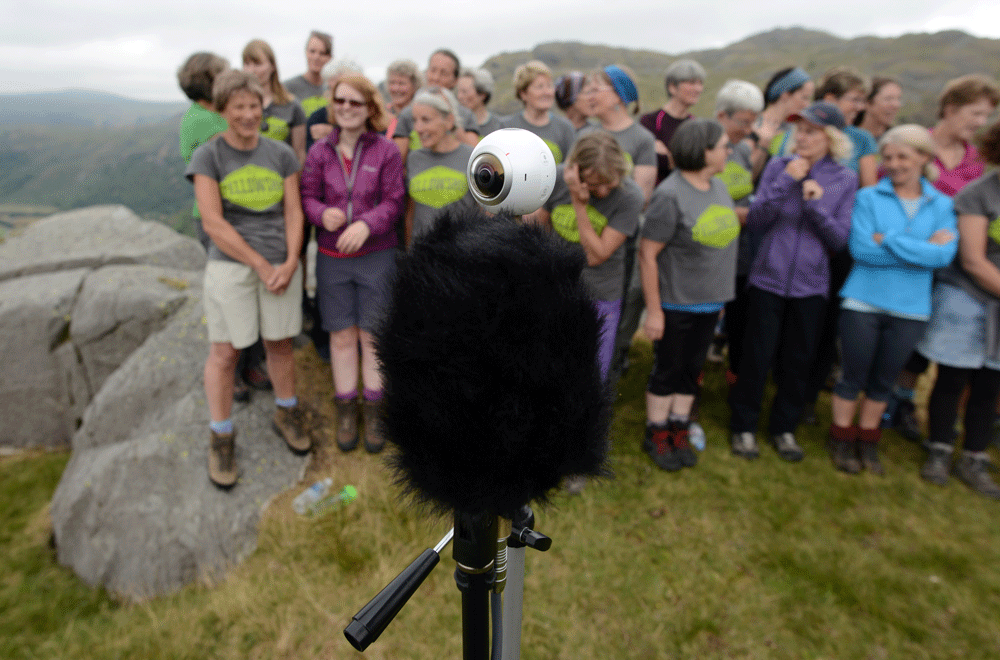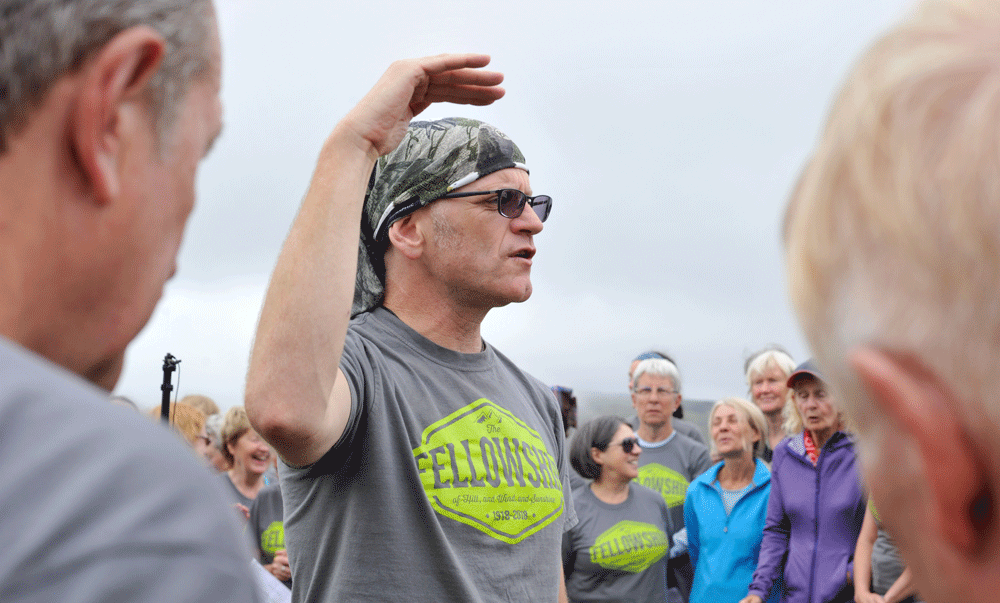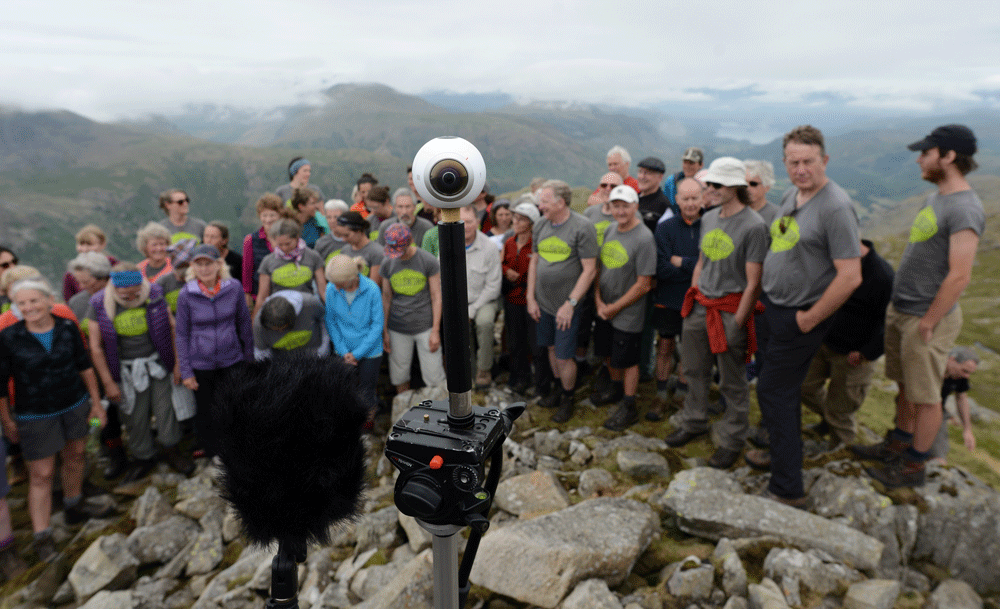 About the Project
A special 'leave no trace' arts project commissioned by the National Trust in 2018 commemorating the gift of Lakeland summits to the nation as a war memorial after the Great War by the Fell and Rock Climbing Club and private landowners. The Fellowship project was a song cycle performed and recorded on the top of Great Gable and other Lake District summits included in the 'Great Gift'.
'The World's Greatest War Memorial'
At the end of the First World War the Fell and Rock Climbing Club created what was described as 'The World's Greatest War Memorial' by giving 12 mountain summits to the nation with the words 'we dedicate this space of hills to freedom'. Two other summits were also gifted by private landowners, making 14 in total.
Extraordinary Vision
One hundred years after the 'war to end all wars' finished, the Fellowship of Hill, and Wind, and Sunshine commemorates the extraordinary vision and remarkable generosity of this great gift to the nation. The National Trust created this unique arts project as part of the Trust New Art programme funded by Arts Council England.
Leave No Trace
Informed by the mountaineering principle of 'leave no trace' we're working with Mouthful – leading professional musicians from the North of England – and amateur singers drawn from community choirs in Cumbria. Together we recruited singers to learn, perform and record a series of songs on many of the 14 summits dedicated as memorials after the end of the war.
Research
The project was funded by the Arts and Humanities Research Council (AHRC) to explore two aspects of group singing:
Can the benefits of group singing be experienced in virtual reality (VR)?

What do the stories people tell about their experiences of group singing reveal about its value?
Click below to listen to a short podcast about the virtual reality elements of the project:
We're still in the process of analysing the large amount of data collected during the project, and expect to publish detailed findings in early 2019. Click here to read Dr. Dave Camlin's paper presented to the International Society of Music Education (ISME) biannual conference in Tbilisi, Georgia, and see below for the accompanying presentation.
Selection of Participant Stories
These are all stories shared by participants through the Sensemaker software after the experience of singing together on the fells:
"I wasn't prepared for how moving the song 'Joy of Living' would be when sung on top of Scafell and when a white gull soared over and circled back while we were singing it and rededicating the fell to the memory of the fallen. A rare poignant and truly spiritual moment for me. The singers and the song around me where enormously comforting and it felt as if us singers had really acknowledged and perhaps even lightened the enormous legacy of grief and grieving that war and this one in particular entails."
"The first time that we sang the Fellowship song on the summit was very moving - singing taps straight into the emotional centre of [our] being: we had finally made it 'upon this mountain summit' singing the song that was the whole reason whilst we were there and looking out over the magnificent panorama of the mountains.. Singing the words 'that the freedom of this land the freedom of our sprit shall endure' to the mountains themselves just made me well up. The sense of camaraderie amongst the group became very strong through our experience today and I feel that I have made friends on a much deeper level."
"I arrived at [the start of the hike] apprehensive about the physical demands of the day ahead but excited about the project. Our group quickly bonded on the climb to Great Gable and we all felt a sense of achievement as we reached the summit. As we all gathered to sing together there was a great sense of camaraderie and purpose. Looking out on the view as we sang I wouldn't have wanted to be anywhere else. It was a great day we chatted and got to know each other as we walked and sang together."
"So many people have spoken to me about the friendliness of the people involved in the project. It can be an intimidating thing to walk into a room full of strangers but the idea of creating a 'Fellowship' of people who have a shared bond of singing and a shared love of the Lake District fells has I think really worked here. There's definitely a sense of a shared spirit of common ground that has enabled us to come together as a group."
"I sing in a choir regularly - so singing was the attraction to join this Fellowship of hill event but I gained so much more. I have learnt more about the Great War and the whole weekend has provoked in me an emotional response I was not anticipating. Thinking about the lost lives. The words that resonate are generosity gift love kindness bravery space - for the past the whole experience and the challenge for me is to carry them into the future. I think listening more or paying attention might be the thing. Thank you."
"Singing with others takes me out of myself into another space. Singing on Great Gable was an almost mystical experience. I felt my precious sense of self drifting away on a wave of harmony. The fells reach up to the sky and our voices unified the rock and the air and through our singing respect was paid to the people before us who had ventured to meet their destiny. People like my grandfather bayoneted in the Great War lover of mountains and great artist. A man of very few words who loved walking and song. And we walked and we sang and it was beautiful. My legs still ache but my heart is full of gratitude for this opportunity to partake. A day to remember and in remembrance to be thankful."
"Music helps us to connect - to other people and to nature itself. It helps sooth us in the tough times and shares our joy in the good times. The joint experience magnifies the positive impacts - knowing that warm glow is shared by so many others - and creates a positive feedback loop. The afterglow of such as event as this can last some time before another top-up of singing gives us a boost when we need it most. This event epitomises my love for music - an expression of our innermost feelings and emotions opening up to the world and to those people present. Increased confidence compassion and joy are obvious benefits to such events as this one but the most profound must be the sense of connection I alluded to earlier. To know our place in this world and smile at it."